Work Time Advisor (Rincewind's Worklog)
A scheme creater to fuel programming.

And so I finish
This project (Work Time Advisor) version 1 is officially finished

. I've taken the program in use, and am generating my day schemes with it every day. For this I use a ruleset coded specially for me. When I want to add something to any of the lists in the ruleset (for example a list of entertainment activities) then I add this in the code and recompile. The dynamic ruleset is based on my best normal day scheme from before.
Because of safety I won't post a full generated scheme. Anyway it holds times and day activities. I would encourage others to put their schedules in code too. It is neat to do so for any programmer.
A last view
Hello! The user interface of Work Time Advisor is now completely finished (for version 1). Here I present the last two images there are to see.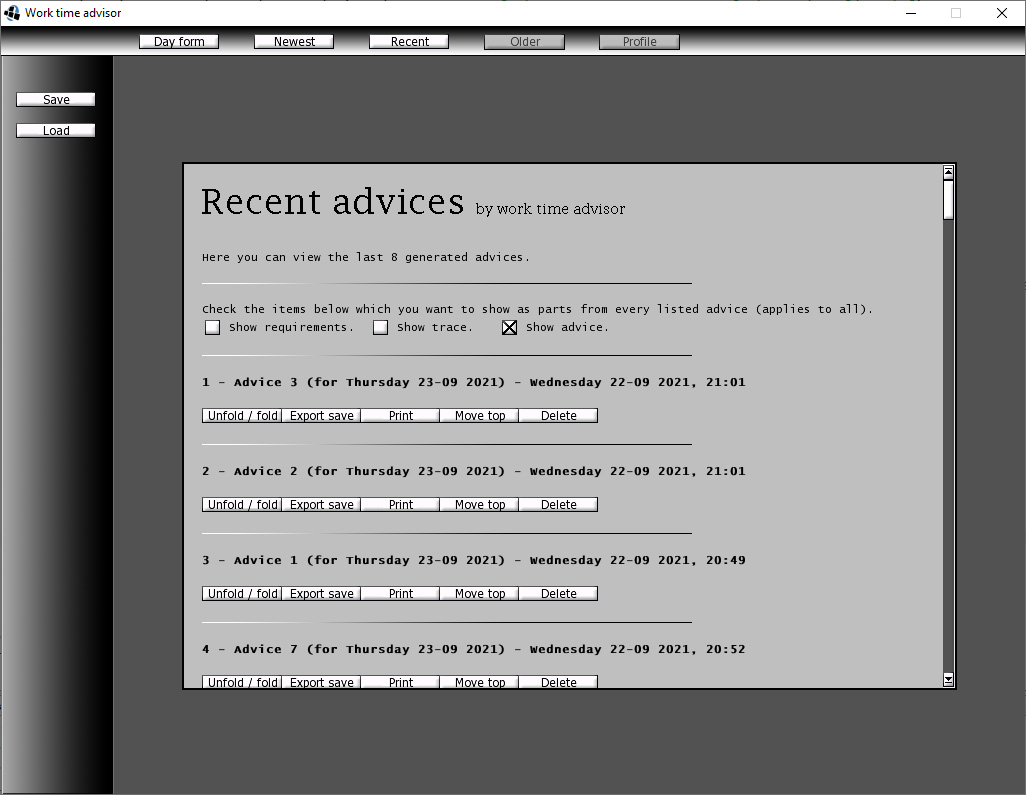 Above here you can see the Recent page, which shows the last (available) 8 generated Advices. All buttons below each item work. You could press the unfold button and it will show the selected advice (in parts based on the checkboxes). You can press export save and it exports an icon to the desktop (a shortcut to a text file with the generated advice in it). Also the print button and other buttons work well.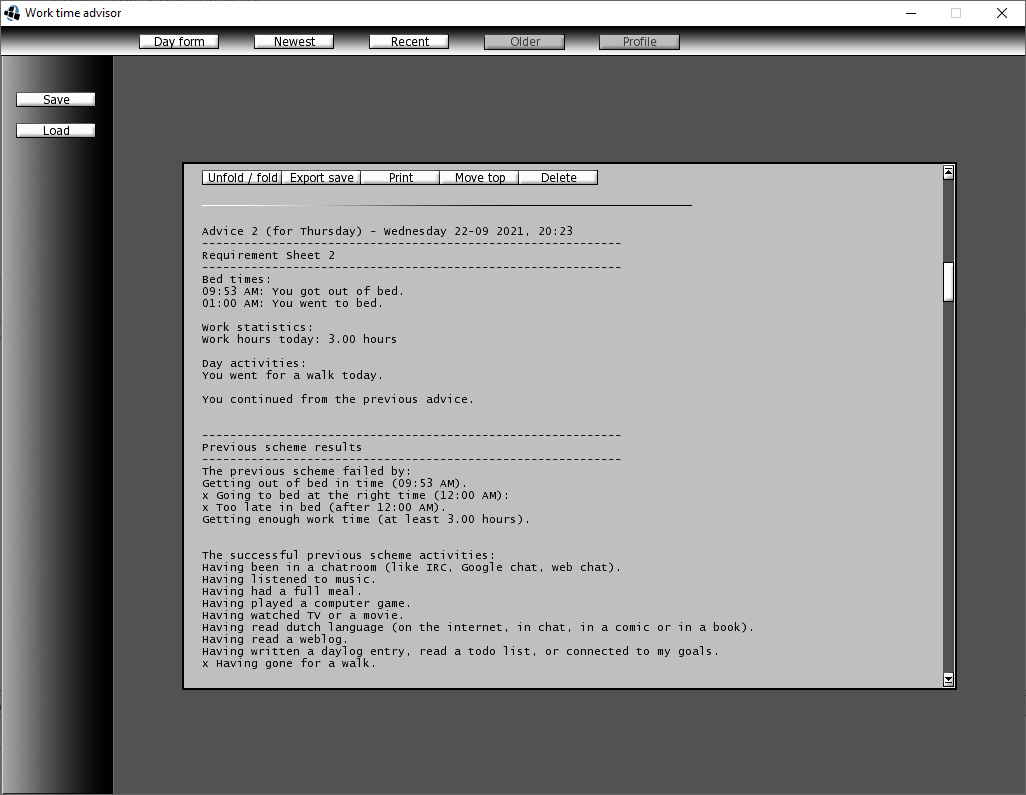 Here you can see 2 out of 3 parts of an unfolded Advice. Further there is only the Advice with the time schedule. I might show later how one looks (in text). The UI won't be taken any further than this. Please leave a reply if you enjoyed viewing these screenshots.
Newest Advice page and icon
I've been working continuously on this project. Even if it exists from 'pages' with UI elements it is not all too easy. I have written a lot of code.
I made a desktop icon. New advices created with this Work Time Advisor program can have a shortcut sent to the desktop (using this icon).

I am now working on the Newest Advice page (comes up when you press the newest button on the top menu). It can already perfectly show the Newest (generated) Advice. You can select which out of 3 parts of the total advice you want to show (ticking the 3 tickboxes).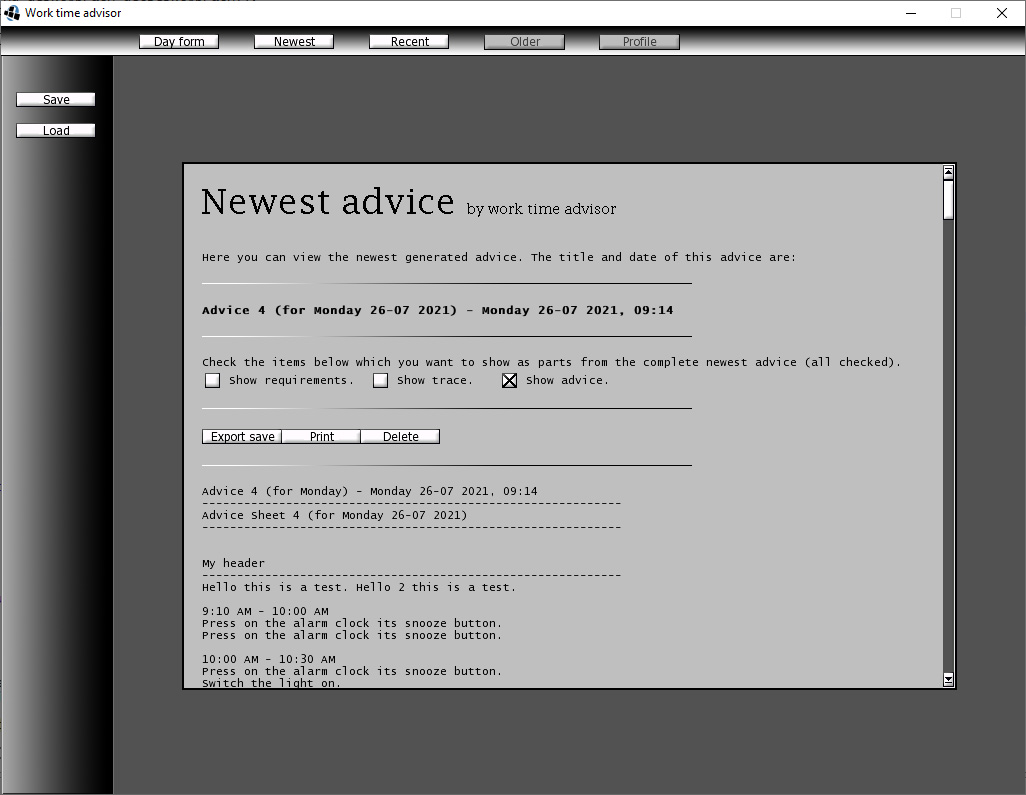 The Export button almost works to export advices to a text file linked on the desktop. I still have to make the print button functional. The delete button works well.
More to see
I got some more screenshots to show. Below first the page you get after submitting the day form (which you have to fill out every night before going to bed). What you can see, is that it compares yesterday's scheme with the filled out form. What went right compared to yesterday is shown in green, what went wrong is red, and what is not necessarily needed in the color grey.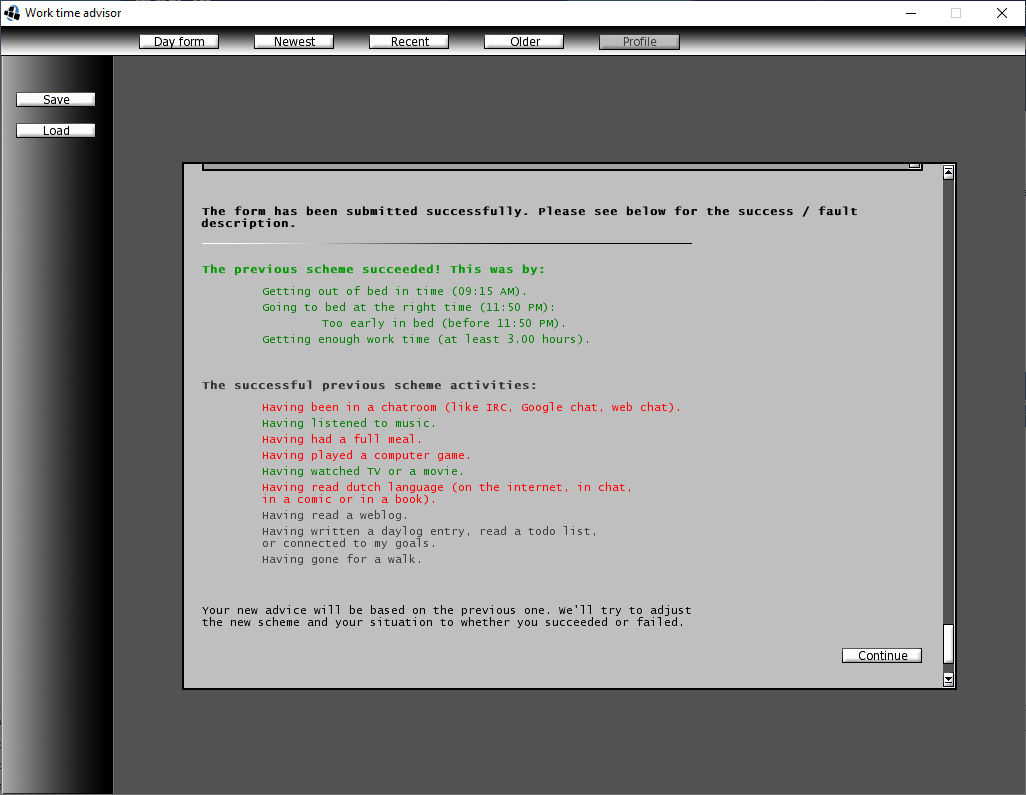 After filling out the day form, the day form page is replaced by a placeholder because a form has been submitted for the last 16 hours already.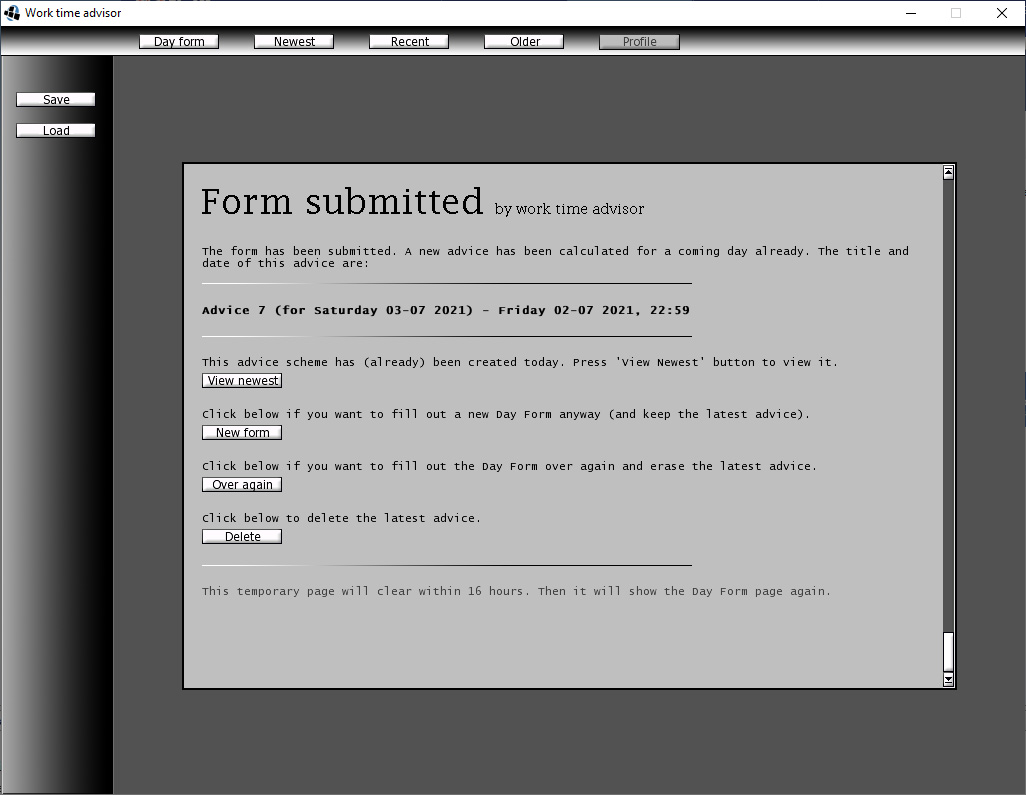 Sometime upcoming, I'll show the generated schemes format (text scheme).
Screenshot 2
A second screenshot of the rest of the form! I drew all the UI graphics myself.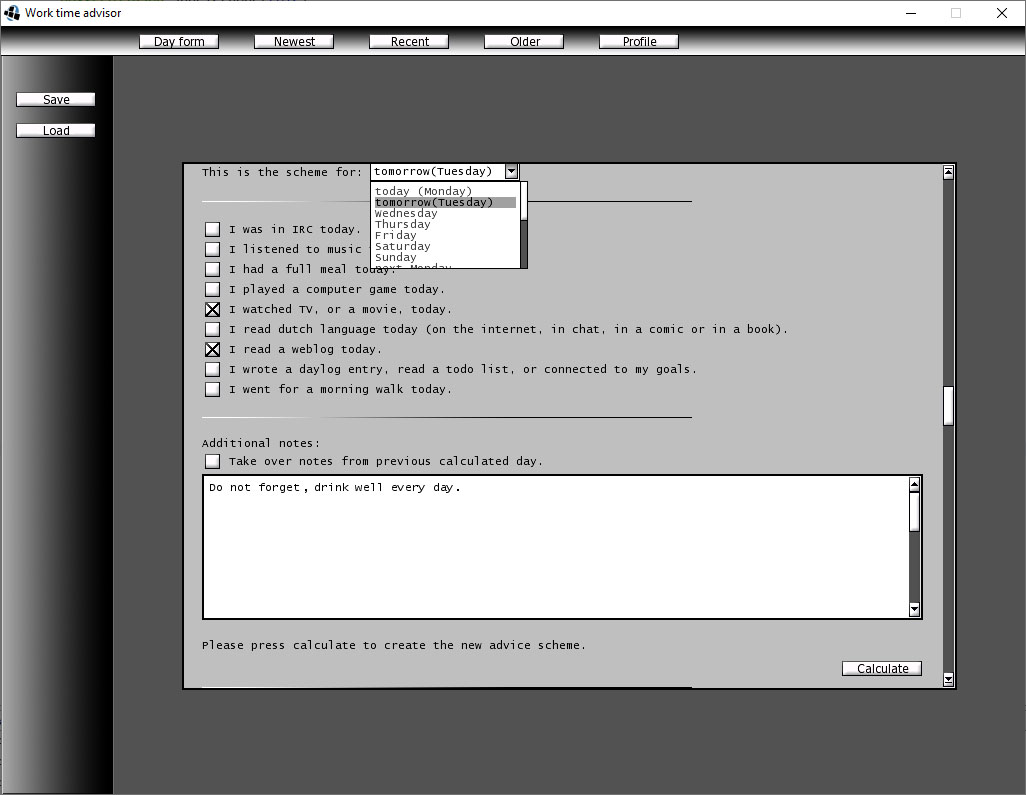 So when you fill out the form you can press the white calculate button. What happens then I'll show later!