Work in Progress Games
They may not be finished but they're still scrumptious
Patience Solitaire (buggy windows edition)
By Pieter-Bart van Splunter (version old and unfinished)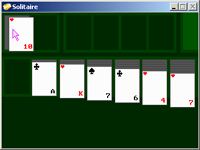 It's solitaire like you have in Windows, but the screen is a bit smaller.

I've originally developed it in DIV Games Studio 2. Unfortunately I've lost the latest sources of that time. This is an early version of the game, compiled in Gemix Studio Beta 5.

It has still quite some defects, so if you find some, please let me know.

DISCLAIMER: This game is compiled with a compiler in beta version. I cannot be held responsible for any possible damage caused by this game! Running this game is completely at own risk. Also please make sure you always have backups of your important files anyway!
| | |
| --- | --- |
| Genre: | |
| Platform: | Windows 95/98/ME , Windows XP/2000/Vista |
| Dev tool: | Gemix studio |
| Other attributes: | |
| Uploaded: | July 26, 2008 |
| Rating: | (1 ratings) |
| Downloads: | 40 |
Comments
Mezzmer
Rating:



Nice little solitaire game.
I didn't play it long enough to find any bugs due to my hate for playing solo card games on a computer.
It feels ok.
Though Gemix programs should surely have use of "close" under windows? I know there is alt-x but generally people are not aware of that.
Add comment