It's time, for a challenge! We are most proud to announce Boolean Soup's game programming competition. A competition open for anyone to enter, by use of any programming language and with some kick ass expensive prizes at stake! And as we are a small community your chances to win have never been this high.


The competition is theme-based and you have 4 awesome themes to choose from, with one acting as a wildcard. The contest will run for about 4 months, after which we will review the games and the big winner will be in the position to choose one of multiple big prizes (see below). Teams of 2 persons are allowed (for example one programmer and one graphic artist), however the prize will be split, so the choice is yours. But don't worry, even the team prizes are still pretty awesome. Every competitor is strongly encouraged to keep worklogs to entertain everyone and tease his or her opponents. Read all about the full rules down here.
Prizes
First prize
: An expensive hardware item of choice! The winner can choose one out of multiple awesome hardware items. Among the choices are a 5.25 Megapixel Digital Camera, a scanner/printer/copier combo machine, a nvidia Geforce 7600 256 Mb graphics card and more!
If a team wins the first prize, there are different choices like two 2GB USB sticks, two Logitech Wireless Lasermice, two webhosting packages and much more.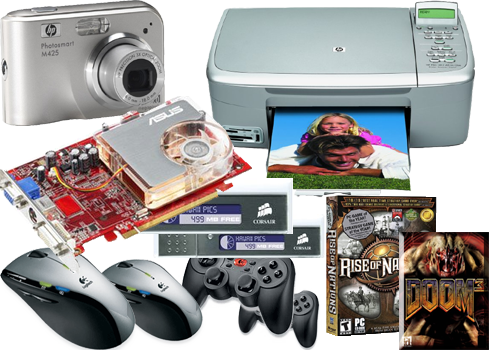 Second prize (donated)
: A pick of two out of the following games(all games donated by members!): Rise of Nations (pc), Doom 3 (pc), Asphalt Urban GT (Nintendo DS), Mr Driller: Drill Spirits (Nintendo DS), Dragon Ball Z: The Legacy of Goku (GBA), Broken Sword (GBA) and Tekken Advance (GBA).
Third prize (donated)
: A random music CD, the pc-game Evolva and spaghetti and catfood for a filled stomach.
You can find the exact prize details in a thread on the competiton forum which will be updated every once in a while with new prizes and upgrades, find it
here
.
Running time & Worklog
The competition will have a rather large time span: about 4 months. See the data below. Near the end of the competition you'll be able to upload your game as a 'finished game' on the "submit stuff" page, with "competition 2006" in your game title or description. Make sure to have your game uploaded before the competition is over!
October 5 2006, 00:00 AM GMT - February 1 2007, 00:00 AM GMT
Every entrant is
strongly
encouraged to keep a
worklog
about their progress on their competition entry. The sole reason for this is to entertain and excite everyone, as well as to tease your opponents. For those who want to enter but aren't a BS member: you will have to be a member to create a worklog and post on the forum, you can sign up
here
(free, of course).
Themes
We've decided on 4 nice themes; competitors have to choose one to stick to. They're not meant as limitation but more as something to let you create cool games you wouldn't have thought of otherwise.
Please note that a theme is not the same as a genre! A theme is only a subject that should be incorporated in the game. If the theme would be Santa Claus then you are free to to make a Santa Claus RTS, a Santa Claus shooter, a Santa Claus mmorpg etc.
These are the themes:
Dinosaurs
Does this need any clarification? Anything with dinosaurs in it, our big feeted friends from the past! Please mind though that a dragon is not a dinosaur.
Internet
This theme is a special theme. You can see it as a wildcard to create any game you want, just make it multiplayer (over the internet). We've so far really seen a lack of self-made internet games, while they can be such great fun. For those of you who use Fenix: remember
Sandman's network dll
, which enables you to easily create Fenix internet games!
You are also free to make a game
about
the internet without it being a multiplayer game.
God
As this seems such a popular discussion subject on the internet, why not make a game about it? It could be anything from a god-game ala Black and White (you are god) to the
boredome elephant VS god
!
Pirates and/or Ninjas
This is really a theme for those of you who like to be involved with supreme sillyness. You can use just pirates or ninjas, but 'pirate ninjas' are most welcome too, not to mention pirate ninja cowboys.
General rules
*
Teams of
2 persons
are allowed, not any more. Of course, you can also enter alone!
*
The game should be made from scratch. This includes all code (external libraries excluded as long as they don't contain whole parts of your game), all graphics, all music, all sound.
*
The game should not contain pornographic, racist or discriminating content.
*
It should be obvious who made the game, and that it's made for the competition.
*
You have to stick to one of the four themes. Multiple ones are allowed, but won't earn you bonus points.
*
You must have your game uploaded before the deadline, February 1 2007, 0:00 AM GMT!
*
Keeping a
worklog
is strongly encouraged!
*
Please specify for what theme you are going in your worklog! You may decide to start another game during the competition instead if you suddenly have a better idea, but then please specify the new theme.
*
General
submission rules
apply.
Forum
A special competition forum has been set up for anything concerning the competition. For example questions about the rules/prizes/themes, as well as general competition chit chat and progress discussion. Find the forum
here
.
Judging
The games will be judged and reviewed as soon as reasonably possible, and we're trying to avoid (time lengthy) affairs as seen in former competitions on some other programming sites. Points of judgement are gameplay, graphics, sound and theme incorporation. If the theme can be clearly recognized in the game it will be perfectly fine, we're not giving higher scores for multiple themes or stuff like that.
The games will be reviewed and judged by the Boolean Soup admins/mods who aren't interested in entering themselves (please feel invited to enter though!). If too many admins/mods end up joining the competition themselves, we'll get judges somewhere else.
All that is left for us now is to wish you best luck!